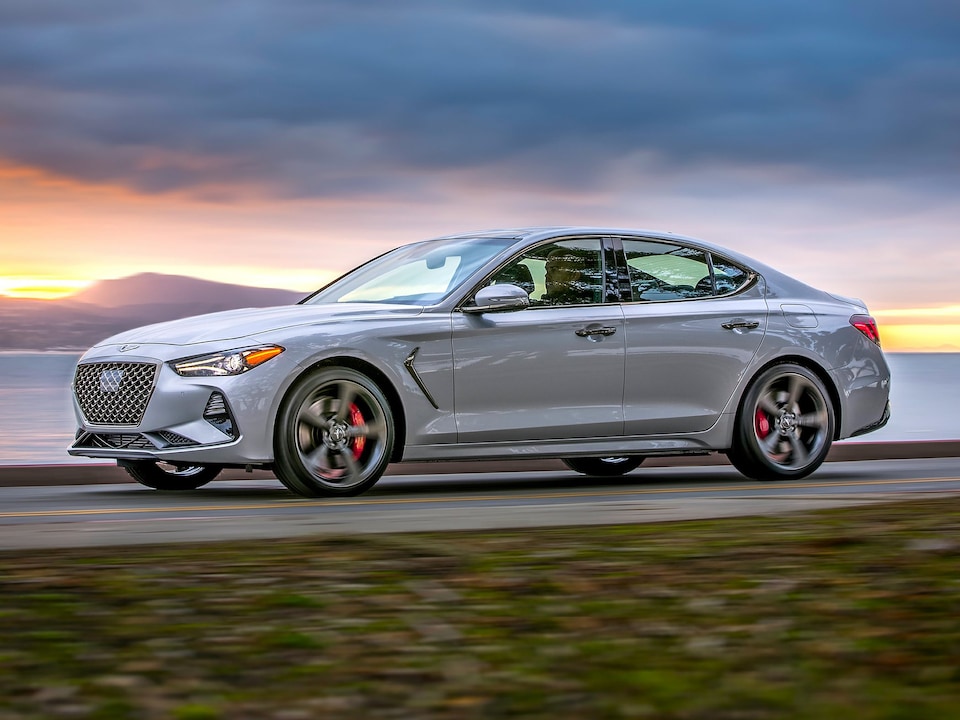 The genesis of quality - Genesis G70
At Genesis of Westlake, we think it is time to see more Genesis G70 owners here in the greater Thousand Oaks area. We think this kind of comfort, safety and modern sleek design is something everyone should experience, and all companies should aspire to.
Hours
Monday

9:00 AM - 7:00 PM

Tuesday

9:00 AM - 7:00 PM

Wednesday

9:00 AM - 7:00 PM

Thursday

9:00 AM - 7:00 PM

Friday

9:00 AM - 7:00 PM

Saturday

9:00 AM - 6:00 PM

Sunday

10:00 AM - 6:00 PM
What kind of accoutrements does the Genesis G70 offer to earn it that luxury label? Let's take a good look and find out.
Safety
Safety is understandably your number one concern with any vehicle, and Genesis agrees whole heartedly. The G70 was actually IIHS top safety pick recently, which isn't something easily earned. With optional four-wheel-drive, air bags, anti-lock brakes and crumple zones for safer impact handling, the G70 is tremendously safe, durable and reliable. Remember, you can't put a price on your safety nor that of your loved ones.
 Performance
Most peoples' next concern is fuel economy, and Genesis G70 is leagues above competing luxury vehicles, getting 22MPG in the city, and 30MPG on the highway. With intuitive engineering, the G70 is also a very green vehicle with minimal emissions.
The power and performance of the G70 is also light years beyond many other luxury cars around Simi Valley, with a 4.5 second zero to sixty acceleration with the turbocharged 2.0L GDI 4-cylinder engine at 252 horsepower. Combined with dynamic torque vectoring control. This car can handle all kinds of terrain and climate conditions safely and competently.
Design
Of course, luxury, design and interior are where the immediate satisfaction lies. With the G70, you get a sleek, posh design that makes a statement, but not too bold of one as to be overdone. Available in many different colors, culminating in the crest grille, this is an elegant and beautiful vehicle that will leave a lasting impression on anyone who sees it as you drive around Agoura Hills, Westlake Village and Calabasas. As far as looks, it's destined to become a classic in the years to come.
The interior of this car is outright regal, with Nappa leather seats that're heated and ventilated for comfort in all climates, no matter what. With excellent leg room and the softest seats of any vehicle, you can ride with absolute comfort even on rough roads near Oak Park.
Technology
No luxury car is complete without modern technologies, and the G70 is aware of this. With wireless charging, USB interfaces, an onboard dash display (complete with back up cam and anti-collision sensors), you can live the modern on-the-go digital lifestyle safely and comfortably.
You've decided you're ready for a luxury vehicle, and congratulations on that. It's a financial commitment, and you'll be driving it for many, many years. You want to take the time to really think through what your choices are. Decide what you want, what you expect financially, and compromise on neither whatsoever.
Trim Levels
The Genesis G70 sedan is available in a variety of configurations. The G70 trim levels include:
Genesis G70 2.0T rear-wheel drive
Genesis G70 2.0T all-wheel drive
Genesis G70 2.0T 6-Speed Manual rear-wheel drive
Genesis G70 3.3T rear-wheel drive
Genesis G70 3.3T all-wheel drive
Browse through our new G70 inventory online today and discover our current promotions. Then, we invite you to visit our dealership to experience the Genesis G70 in all its glory. You'll gain a whole new definition of beauty, of comfort and quality with the Genesis G70. We're confident that you'll love the new G70 as much as we do.